The brick and mortar retail world is beginning to embrace digital in a much larger way, and a Boston start-up called Aisle Buyer has a fascinating platform worth discussion.
Essentially, Aisle Buyer is a mobile phone app that enhances brick and mortar retail experience by:
-Providing valuable product information on demand at point of shelf
-Communicating specific retailer or brand driven offers in the aisles
-Enabling immediate purchase in the aisle (need need for the check out line)
The user interacts with Aisle Buyer by scanning a UPC in a participating store. The upc call delivers additional product information and features as well as any item-level offers the retailer or manufacturer wish to communicate.
And here's their explanatory vid: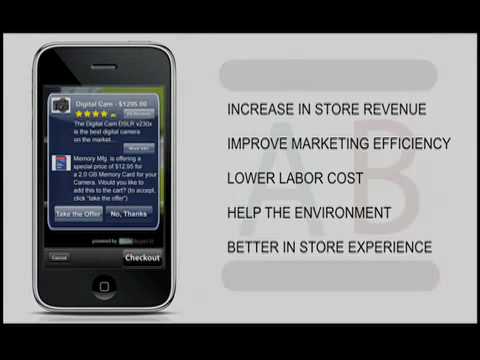 Mobile is one of the hottest topics in retail. Clearly, major chains as well as smaller outfits recognize that consumers are accessing information on their mobiles from the aisles already. In steadily growing numbers. Just a few weeks ago, NPR did a report on how comparison shopping via mobile had improved digital Christmas sales at the expense of brick and mortar. Obviously the impact hasn't been massive thus far -- ecommerce still only accounts for 6-8% of total retail spend. But can there be any doubt that those numbers are going to crank in the next couple of years?
For the retailer, the offering can:
-Increase sales
-Lower labor costs
-Provide a better retail experience
-Be a paperless "green" initiative
Currently available in Boston, the offering also enables the retailer to deliver a sort of digital alternative to ROP, with targeted and segmented offers based upon locations, demos, etc. A recent Boston Globe article reported that they are in negotations with chains representing 8000 stores for expansion.
Stuff like this is absolutely the future of in store retail.
***********************************************************************************
Did you know ad:tech is offering its first startup competition?
It's an opportunity to tell your digital marketing startup's story in front of billions of dollars of brand marketing power! At ad:tech San Francisco (April 11-13), ad:tech's Startup Spotlight Series will profile 16 startup companies with promising services and technologies for brands and marketers in Data, Social, Mobile, or Shopper Marketing.
To qualify, startups must:
• Focus their presentation on how they help marketers
• Have been founded since 2007
• Have moved beyond angel and seed funding and have venture capital funding
• Have a working beta or launched product
• Incorporate a new technology or platform or exploit a new behavior that helps today's digital marketers
Find out more and enter here!
Hurry! Submission deadline Friday, February 11, 2011 (no extensions). Even if I have written about your company here, you need to submit an entry to this official ad:tech competition!
********************************************************************************************