Is there an appealing adjective NOT in that headline? The first time I saw MotiveCast, I knew what it meant to have bladder control issues. It was that exciting.
Here's the deal. Imagine addicting mobile casual and crossover casual/core games. Lovely animation, telegraphic gameplay that requires no directions, and connected leaderboards. Nice, hunh? Well, now add in some AR. Because MotiveCast uses your phone's camera and hyperlocal triggers to spawn games and game play based upon where you are. So, as a hypothetical example, imagine you're standing in line at Piggly Wiggly, and to kill time you point your camera at the candy rack. As one does...
And all of a sudden little packs of gum start flying off the rack and moving toward you mock menacingly. You begin to fire shots at the gum from Hell, and rack up points while the 12 people in front of you check out. But, wait! It's not 12 people anymore! Because you've just spent 6 minutes shooting at the gum packets. It felt like no time at all. And as your reward, you get a coupon for 50 cents off a real Plen-T-Pak. You have a better shopping experience, Wrigley's sells some DoubleMint. Win win.
Right right, and the conservative marketers among you are saying, "I don't want people shooting at my product." Fine, MotiveCast can conceive and execute a game that will make you happy, either in conjunction with an agency or on its own.
One of the examples THEY use is the idea that you could enter a Disney Store and see Tinkerbell flying around. And even interact with her. This experience would ONLY be available in those store locations. So it gives you and the kids another excellent reason to make the trip. And while you are there, purchase $80 worth of plush toys. Natch.
The possibilities are endless, and it's not all that hard to see that this kind of technology could be relevant in many categories. Even, dare I say, B2B. Though of course it really is B2C primary.
For retailers in particular, however, I think this technology has even greater appeal. Retailers are going to have to be exploring shoppertainment as a way of differentiating themselves in our overstored country. MotiveCast uses an example of being at a Target and having actual targets drop from the ceiling throughout the store.
Now, imagine CPG. Mom gives the kid the phone to entertain them as they navigate Safeway aisles. In dairy, Yoplait flowers grow from the floor. In cereal, gigantic Cheerios pop off the shelf and roll toward the child like the Indiana Jones rock. Can you imagine the giggles?
Moving on to Macy's. What if you walked into the Polo shop and could see animated runway models sporting the fashions?
MotiveCast makes its own unsponsored games, but a core part of their business is developing interactivities for brands. Go to this page to see a couple of their games, including a sizzle vid of three concept games they made for the Pepsico10 competition.
Or check out this  interview conducted by On Digital Media from the floor of ad:tech NY: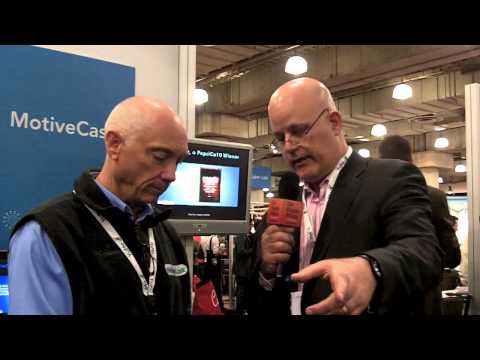 Me likey. Actually, me likey likey likey.
***********************************************************************************
Did you know ad:tech is offering its first startup competition?
It's an opportunity to tell your digital marketing startup's story in front of billions of dollars of brand marketing power! At ad:tech San Francisco (April 11-13), ad:tech's Startup Spotlight Series will profile 16 startup companies with promising services and technologies for brands and marketers in Data, Social, Mobile, or Shopper Marketing.
To qualify, startups must:
• Focus their presentation on how they help marketers
• Have been founded since 2007
• Have moved beyond angel and seed funding and have venture capital funding
• Have a working beta or launched product
• Incorporate a new technology or platform or exploit a new behavior that helps today's digital marketers
Find out more and enter here!
Hurry! Submission deadline Friday, February 11, 2011 (no extensions). Even if I have written about your company here, you need to submit an entry to this official ad:tech competition!
********************************************************************************************